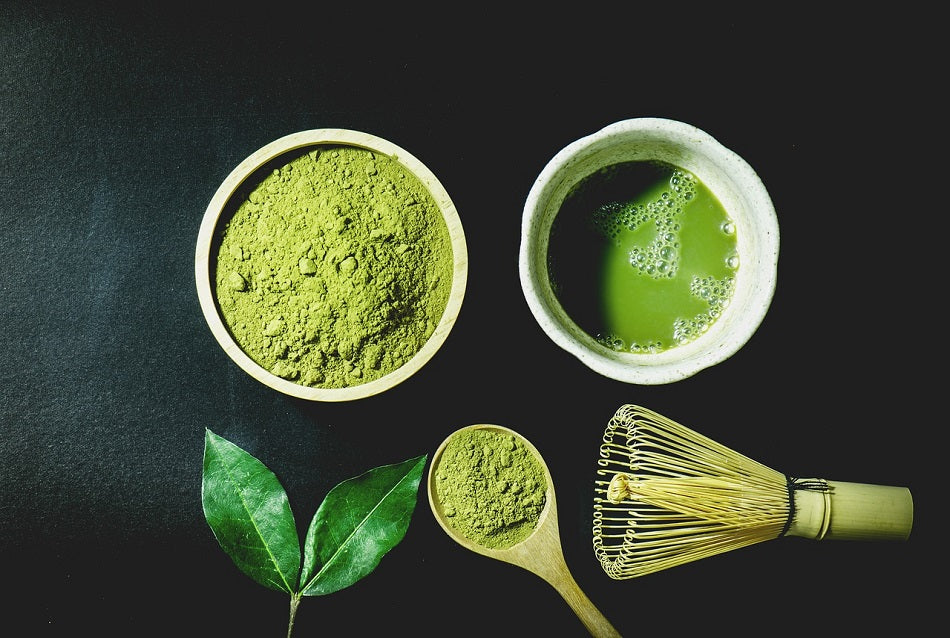 Matcha Energy Drink
It is simply amazing to see the number of "energy" drinks that are available in the market today. There are everywhere, be it local grocery stores, pan shops, supermarkets, departmental stores and can be found in vending machines also.
Energy drinks are known to contain controversial ingredients like taurine, theophylline, theobromine — these are known to interfere with sleep, also comes with a host of health problems. The marketing efforts of  Red Bull, Monster, Crunk, Tzina, Cloud 9, Xtra Power Energy, B'lue is mind-boggling.
The caffeine blast in them makes it "work" coupled with the added sugar is always good for a quick–but detrimental–energy boost.
For a quick pick me up energy drink, just fill a  water bottle with cold filtered water, add a teaspoon or so of Teacupsfull  Organic Matcha Green Tea, and shake it vigorously. Voila! You can also do it in a blender with ice (this is the preferred method). You can then keep the power drink in your purse/bag, take it in the car with you, or take it on your bike ride or to the gym. At home, we usually keep a small supply of them in the fridge. Just be sure to shake up well before sipping (matcha never fully dissolves; it will eventually settle at the bottom of the bottle). It keeps its vibrancy, flavour, and colour for a few days. Adding a splash of lemon juice/cucumber juice can be nice, too.
The powerful combo of l-theanine and small amounts (25mg) of caffeine found in matcha will give you more energy than you know what to do with. You'll never go back to purchasing artificial energy drinks.
Health benefits of Matcha Green Tea :
Matcha enhances memory and energy – Loaded with Amino acids and L- Theanine, our organic matcha green tea from Japan will keep you energised the whole day, it will make you mentally alert and will help you focus on your activities
Matcha is a metabolism Booster – Research has proven that consumption of Matcha green tea before your workout will increase your metabolism. Unlike other supplements, organic Japanese Matcha tea is a natural product with no added preservatives.
Matcha for cooking: Japanese matcha is recommended by Chefs world-over. Matcha green tea powder can be added to make lattes, smoothies, cakes, chocolates and even ice cream. Organic Japanese Matcha powder adds nutrition to your diet.
Matcha is good for Anti-stress and anti-anxiety: Japanese Matcha green tea has high levels of an amino acid called L-theanine, the amino acid combats stress and anxiety, when you drink matcha it makes you feel relaxed and calm.