Castleton Tea Estate - Producers of the Best Darjeeling Tea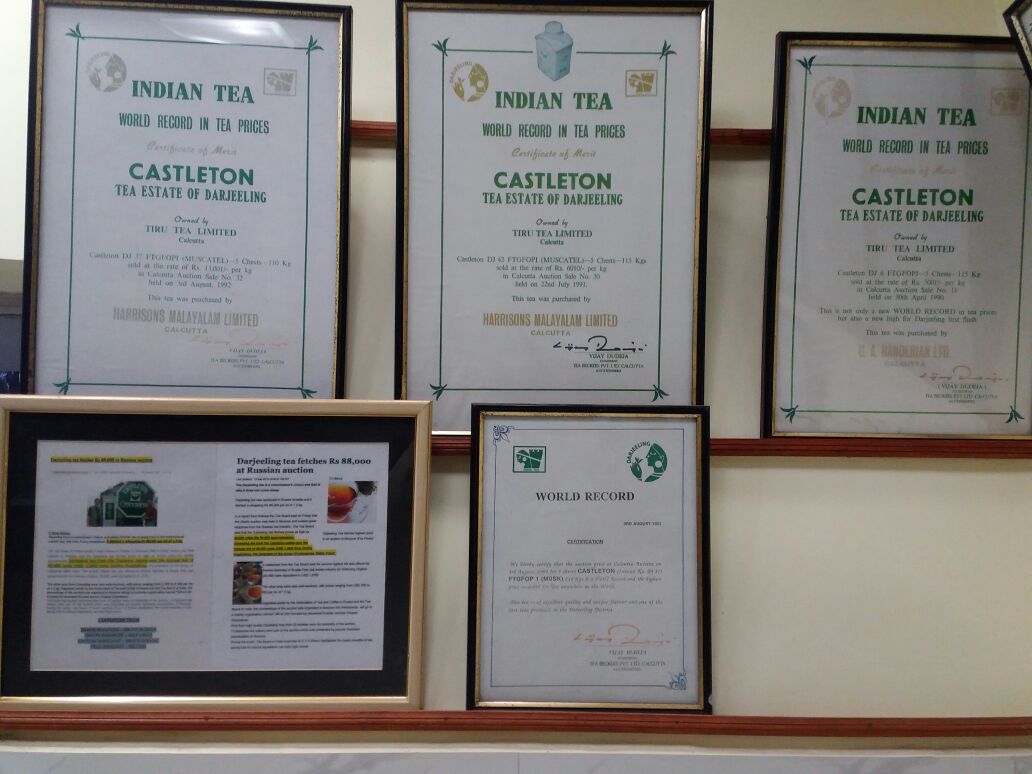 The crème de la crème of all Goodricke's gardens, the most renowned of them all is Castleton Tea Estate.
This garden was planted by Dr Charles Graham in 1885. The garden has large sections of China bushes which grow at a height of 915 metres to 1830 metres above sea level. An existing look-alike castle building in Kurseong is where this garden gets its name from, though the original name being Kumseri. This grandiose fort or 'Bank Ghar' was made by a money lender.
Not going with the traditional practice the tea sections instead of having numbers have names. These names significantly tell about the glorious past of the garden. Some of which are--Bhalu Khop meaning 'Bear Cave', Jim Basha meaning the erstwhile manager's domain, Dhobitar meaning washerman's clothesline, Baseri meaning resting place.
Castleton is aptly the abode of Gods where nature's mountains, earth, sun, mist and dew bless it to grow the world's best teas. Whether it's Royalty from Japan, England or the Middle East, the garden's teas are highly reputed and a favourite with royalties.
The core essence of Castleton Tea Garden is its quality. Awarded the ISO9000/HACCP/ISO 22000 Quality Systems Certification, its quality standards are set so high that it has achieved many world record prices for its teas in the Kolkata auction centre.
Castleton tea made from China bushes is known for its exquisite and delicate flavours. Fragrant like roses, golden like sun-spun amber, the teas are most prized for their unique 'muscatels', comparable to sweet summer wines, with intense fragrant top notes of musk.
Their Moonlight White tea, First Flush and Muscatel is world renowned and is highly sought after by tea connoisseurs.
Some interesting personal stories:
Mr NK Puri has done countless tea tasting in Castleton. He is the founder and Tea Master of Teacupsfull. 
Mr Jivan Pradhan was the visiting General Manager for Castleton and has done countless tea tasting session in Castleton. He is now a Tea Master with Teacupsfull.
Mrs Puri recalls that the Managers Bungalow is off the main the main road and the Guest Room is always ready as you can have a visitor any minute. It is one of the prized estates of Goodricke.
Mr Pradhan recalls "there is fierce competition between three gardens i.e Castleton, Giddapahar and Makaibari. Castleton has always come out to be the winner. The Staff, Assistant Managers and Managers are very proud of the fact they produce the best tea in Darjeeling and this badge of honour makes them work harder every season". 
According to Mr Puri "If you haven't had Castleton Tea you have not had the best Darjeeling Tea - the Champagne of Teas, its unique muscatel flavour is what the garden is famous for. Castleton tea can be found in the best tea stores across the world and even at Teacupsfull."
Tea Masters of Teacupsfull stated, "We are proud of the fact that we worked for Goodricke Group, during our time we made the finest tea and the legacy carries on till today. We would like to congratulate the present generation of Managers for taking the tradition forward".
You can buy Castleton Tea at www.teacupsfull.com selected by Mr Puri and Mr Pradhan Ex Goodricke Tea Planters, an assurance that no other tea boutique can give.