Diwali Gifts - With a twist !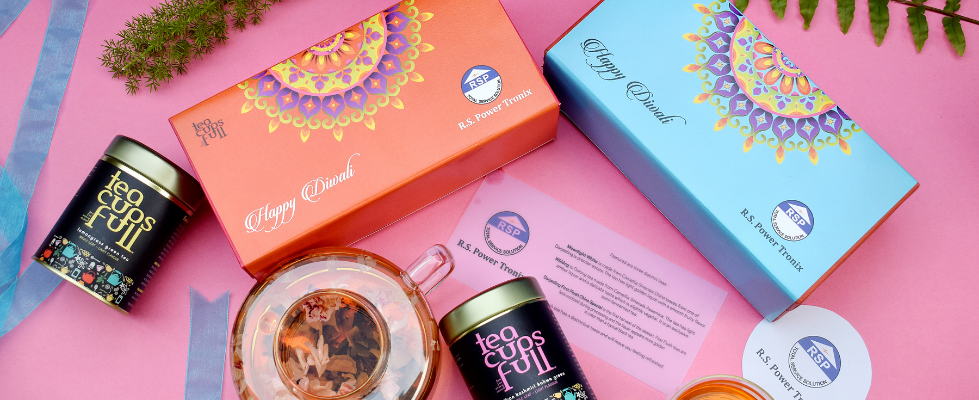 Diwali or Deepawali is the festival of lights and is one of India's largest festivals. It is among India's most celebrated festivals and it is celebrated with sweets, crackers and gifts. Diwali celebrates the victory of light over darkness. This year it will be celebrated on 14th of November 2020 and Choti Diwali will be celebrated on 13th November, 2020.
Diwali is celebrated with great excitement and delight, this is one occasion when you give gifts to everyone, from family, friends, neighbours, business associates, clients, employees to your household help. What you gift during Diwali leaves a lasting impression, clients remember you for the thoughtful gift and the personal attention to detail.
So why is it so important to select a gift that cuts across all segments? Firstly, the gift that you give always reflects your personality, if you have gone out of the way to curate a gift, it always reflects on the gift you selected. A gift is supposed to bring a smile to the recipient and not a frown.
I am sharing a real incident where a Sr. Vice President of a leading real estate company in India sent a gent's suit piece to a lady journalist, besides he had the misfortune of misspelling her name and he also prefixed the wrong title. The journalist called the CEO and shared her experience, from the next year onwards the company stopped sending Diwali gifts. The lesson is that thoughtful gifts always leave a lasting impression on the recipient and also the other way round.
At Teacupsfull, each year we curate teas especially for Diwali as it is India's most popular festival. Our curated collection of tea and its packaging has been inspired by the canvas of colours which can be seen across the country. 
Hours of work go into designing our tea gift boxes, tea gift sets and hampers. Choose from our exclusive selection of gourmet teas packed in artfully designed air-tight containers will leave you speechless for choice. 
We have curated the best of Diwali gifts online. You can now buy your favourite tea and gourmet tea for family, friends and relatives from the comfort of your home and office. Send healthy Diwali Gifts this season to your clients, business associates, family in India, family members abroad.
Buy Diwali gifts online at exciting prices, select from our bespoke collection of premium teas from Darjeeling, Assam and speciality teas. Packaged in elegant, colourful tea caddies, tea boxes, gifts sets, gift hampers, Tea tins and Tea gift boxes, these are the ideal gifts for Diwali. These gift boxes feature various kinds of teas like White Tea, Oolong Tea, Organic Tea, Jasmine Green Tea, Jasmine Green Pearls Green Tea, Organic Green Tea, Organic Black tea from India's best tea estates.
Our collection of speciality teas are now available at astonishing prices as never before. Buy Diwali gifts online for those special ones who matter the most to you, send a customised message along with your gift. Our exquisite and customised tea gifts will make Diwali memorable and you will be remembered for the remarkable gift that you sent. Buy Diwali gifts online at www.teacupsfull.com at exciting prices.
You can now send Diwali gifts within India or even send them abroad. These gifts will be packed with the utmost care to ensure that it reaches its recipient in perfect condition and quality to make their Diwali memorable. We use international logistics partners like FedEx and DHL to ensure that your gift reaches on time, we also provide the tracking number of your gift so that when it gift reaches them you can call and wish them "HAPPY DIWALI"!